Injectable Arnica
Through his immersion into homoeopathic medicine at the tyringham naturopathic clinic from 1981, Dr Les Bailey gleaned the homoeopathic knowledge of Dr Ian urquhart, an eminent homoeopath.
He asserted that homoeopathic medicine rarely works through a pill, because of absorption rates of the microscopic amounts of the substance in the remedy.

He was of the opinion that homoeopathic medicine should be injected just under the skin, using a tiny injection needle.
Les began using homoeopathic arnica injections after Thai boxing bouts, and the healing rates were phenomenal.
This was using it systemically, in that it swept the whole body , excellent if one is covered in bruises. Arnica, given homoeopathically is very safe indeed, as with all remedies, it stimulates the body to set up its own fight, rather than a drug, which acts as an opposing force.

He introduced it to a cosmetic surgeon friend of his, who used it on every patient, describing the post operative healing effect as incredible. Some 20 years ago, Dr Les Bailey hit on an idea, this being that maybe it could be used in place of cortisone at the injury location.

He scoured every source for information, but no one had thought of this before. The only person he was going to test it on was himself, so he waited till he got a 3 ligament strain from running, limped home, and injected it around the ligaments.

This is usually a 6-8 week injury, but a miracle occurred. Les was back running next day! He told a doctor colleague who specialised in cortisone injection procedure, and he agreed to try it, and surprisingly, got 80% success (compared with cortisones 40%)

Dr Les Bailey offers Arnica treatment at the Back and Joint Pain Centre.

See links page for his online page on Injectable Arnica.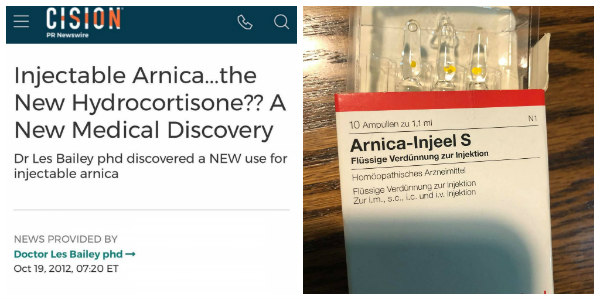 We also use Injectable Zeel, a safe and effective homeopathic remedy for chronic joint pain/arthritis.