FURTHER CORONA SAFETY AT THE BACK AND JOINT PAIN CENTRE
WORDS OF PRAISE FROM AN EX NHS WORKER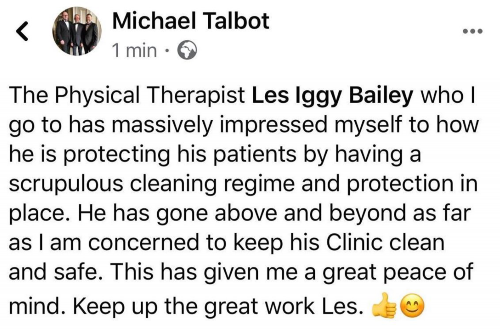 CORONA SAFETY AT THE CLINIC UPDATE
A high temperature and/or dry cough are the most common early symptoms of COVID-19. Upon arrival at the clinic, your temperature will be taken in the waiting room using a hospital grade thermometer with "disposable use once" probe covers. I will wear a mask for this check.
This is in addition to our strict and thorough cleaning between each patient, including couch and face hole (yes, this is stressful, and hard work, but your safety comes first) Medical grade hand gel is mandatory upon entry, and exit from the clinic.
My own temperature is checked twice daily, and extra rigid hand hygiene is also carried out before and after each patient. You can trust we are doing everything to ensure a safe visit for you.
The government have declared it ok to attend medical appointments, so please travel safely and avoid if you have a dry cough or known fever.